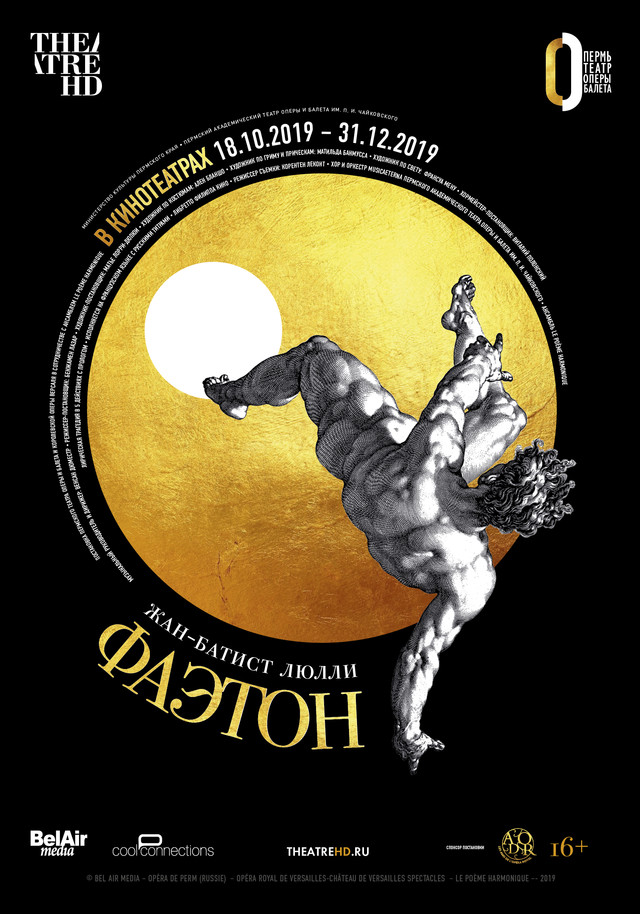 Обсуждаем «Фаэтон» с Варварой Туровой
Череду специальных событий, связанных с показами великолепной барочной оперы Жана-Батиста Люлли «Фаэтон» продолжает лекция
Варвары Туровой
.
17 ноября в Москве, в Центре документального кино поговорим о том, как устроена музыка в «Фаэтоне», что представляет из себя барочный жест и как научиться понимать театр эпохи барокко. Все желающие смогут научиться барочным жестам «отказ», «любовь» и «проклятие». И, конечно, разобраться в том, почему «Фаэтон», совместная постановка Пермского театра оперы и балета и Королевской оперы Версаля, явление действительно выдающееся.
Welcome drink от Simple wine.
Показ проходит при поддержке Французского института при Посольстве Франции в России.
Guests
Actors
Crew
A co-production by Perm Opera and Ballet Theatre and Opéra Royal du Château de Versailles Spectacles in collaboration with Le Poème Harmonique


The script for Phaëton — tragédie lyrique by composer Jean-Baptiste Lully and librettist Philippe Quinault — is based on one of the stories from Ovid's Metamorphoses. Phaëton, the son of Helios and the ocean nymph Clymene, was severely punished by the gods for his pride and ambition. It is sometimes referred to as "the people's opera", just as Lully's Atys is referred to as "the king's opera" (incidentally one of Louis XIV's favourite works). After its premiere in 1683 at the Palace of Versailles, Phaëton reigned supreme on the Parisian stage until the mid-18th century, with certain musical numbers even permeating the everyday life of those within the more democratic layers of society.
In March 2018, master of baroque theatre, Benjamin Lazar, and the artistic director and conductor of the ensemble Le Poème Harmonique, Vincent Dumestre, will present their version of Phaëton on the Perm stage.


Performed by guest artists, musicAeterna chorus and orchestra and Le Poème Harmonique
Runtime
2 hours 34 minutes, no interval
Can be interesting for you