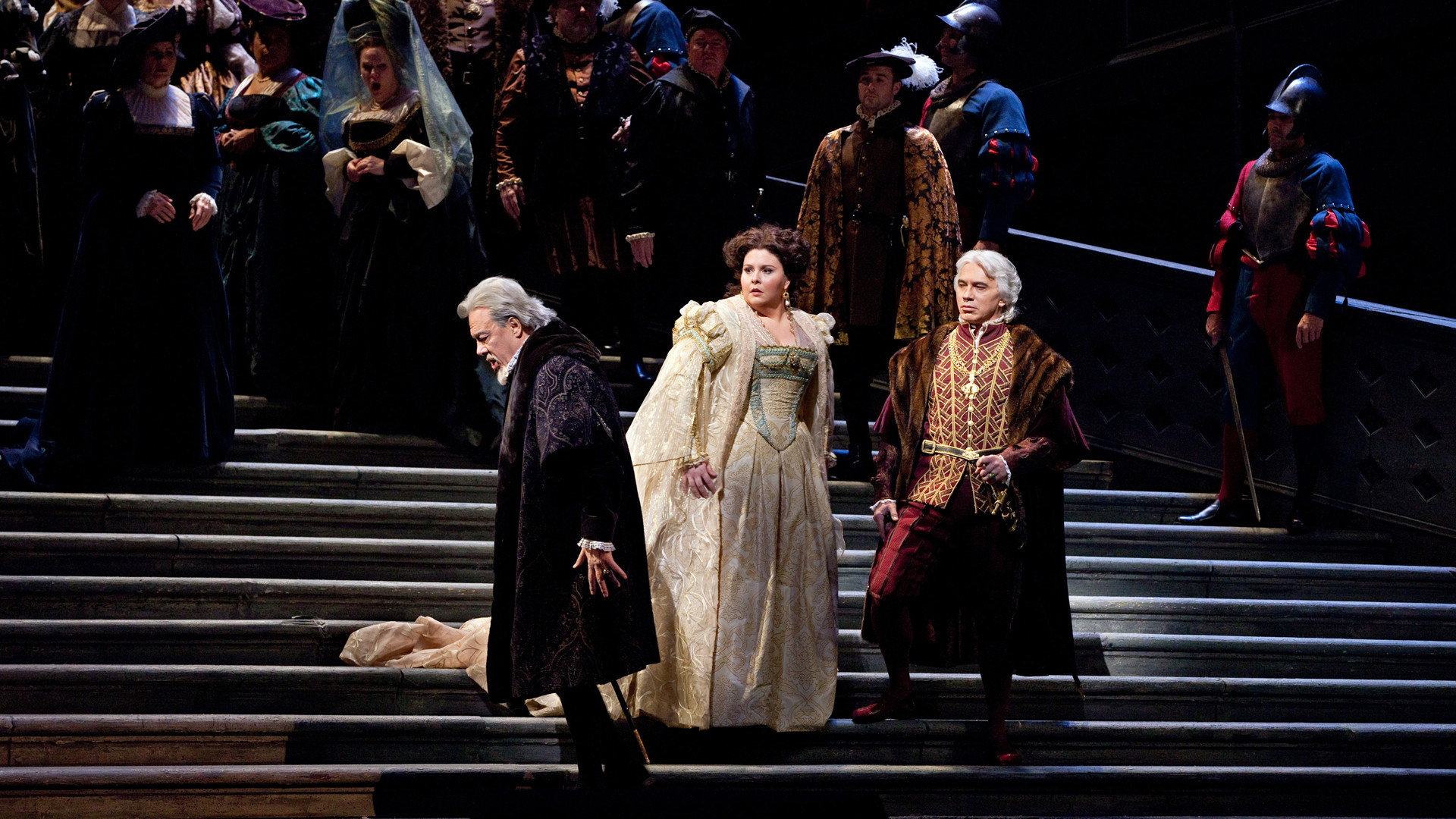 Ernani
Эрнани
Rising Met star Angela Meade is Elvira, the young woman caught between three men: her lover, the nobleman-turned-outlaw Ernani (Marcello Giordani); her guardian, the rich, elderly de Silva, who wants her for himself (Ferruccio Furlanetto); and Don Carlo, the King of Spain, who also desires Elvira (Dmitri Hvorostovsky). Verdi's early drama is full of sweeping melody and rousing rhythms, delivered masterfully by the Met Orchestra and Chorus conducted by Marco Armiliato.
Actors
Crew
ACT I: THE BANDIT


Spain, 1519. Don Juan of Aragon has lost his title and wealth during a civil war. Taking the name Ernani, he leads a band of outlaws in the mountains. He tells his men of his love for Elvira and his daring plan to rescue her from an impending forced marriage to her uncle, Don Ruy Gómez de Silva. The men, eager for action, set out with Ernani for Silva's castle.

As Elvira waits for Ernani in her room, she is visited by Don Carlo, the King of Spain. He declares his love but then tries to abduct her, and she grabs a knife in self-defense. Ernani bursts in. The king recognizes him as the notorious outlaw and taunts him with insults. The men are about to duel when Silva comes into the room. He is shocked to discover Elvira with two strangers and threatens them both. When a messenger reveals the king's true identity, Silva asks for forgiveness, which Carlo grants. He needs Silva's support in the election for the new Holy Roman Emperor. The king dismisses Ernani, who is angry but leaves at Elvira's urging, vowing revenge.
ACT II: THE GUEST


In Silva's castle, preparations are underway for the marriage of Elvira and Silva. Ernani arrives, disguised as a pilgrim. When Elvira enters in her bridal dress, Ernani throws off his cloak and offers his head—which has a price on it—as a wedding gift. Elvira, briefly left alone with her lover, assures him that she would rather kill herself than marry someone else. When Silva returns, he is furious to find the couple embracing. But at the arrival of the king, Silva hides Ernani so that he can take revenge on the outlaw later. Carlo accuses Silva of concealing a criminal, but the old man refuses to turn Ernani in and offers his own life as forfeit. When Elvira enters to ask the king for mercy, he takes her away as a hostage. Silva challenges Ernani to a duel and is astonished when Ernani reveals that Carlo is also a suitor for Elvira's hand. The two agree to suspend their quarrel to take vengeance against the king. Once they have done so, Ernani says, his life will be in Silva's hands. As a pledge, Ernani gives Silva a hunting horn: when it is sounded, Ernani will kill himself. Silva agrees and calls his men in pursuit of Carlo.
ACT III: CLEMENCY


At Charlemagne's tomb in Aachen, Carlo is waiting for the electors' choice of the next Holy Roman Emperor. He thinks about the futility of wealth and power and vows to rule wisely if chosen. As a group of conspirators led by Ernani and Silva gathers to plan his assassination, he hides inside the tomb. Ernani is chosen as the one to kill the king, and the men look forward to a better future for Spain. When cannon shots announce that Carlo has been elected emperor, he emerges from his hiding place and orders the conspirators to be punished. The nobles are to be executed, the commoners imprisoned. Ernani reveals his true identity and demands to share the fate of the other noblemen. Elvira again pleads for his life. Addressing himself to the spirit of Charlemagne, the new emperor pardons the conspirators and agrees to the marriage of Ernani and Elvira.
ACT IV: THE MASK


At his palace in Saragossa, Ernani is celebrating his upcoming marriage to Elvira. A horn sounds in the distance, interrupting a brief moment alone for the happy couple. The horn announces Silva, who enters demanding that Ernani fulfill his oath. Sending the terrified Elvira away, Ernani confronts his rival and pleads for a moment of happiness at the end of his miserable life. Elvira returns as Silva hands Ernani a knife and demands the life that has been promised to him.
Runtime
3 hours 50 minutes