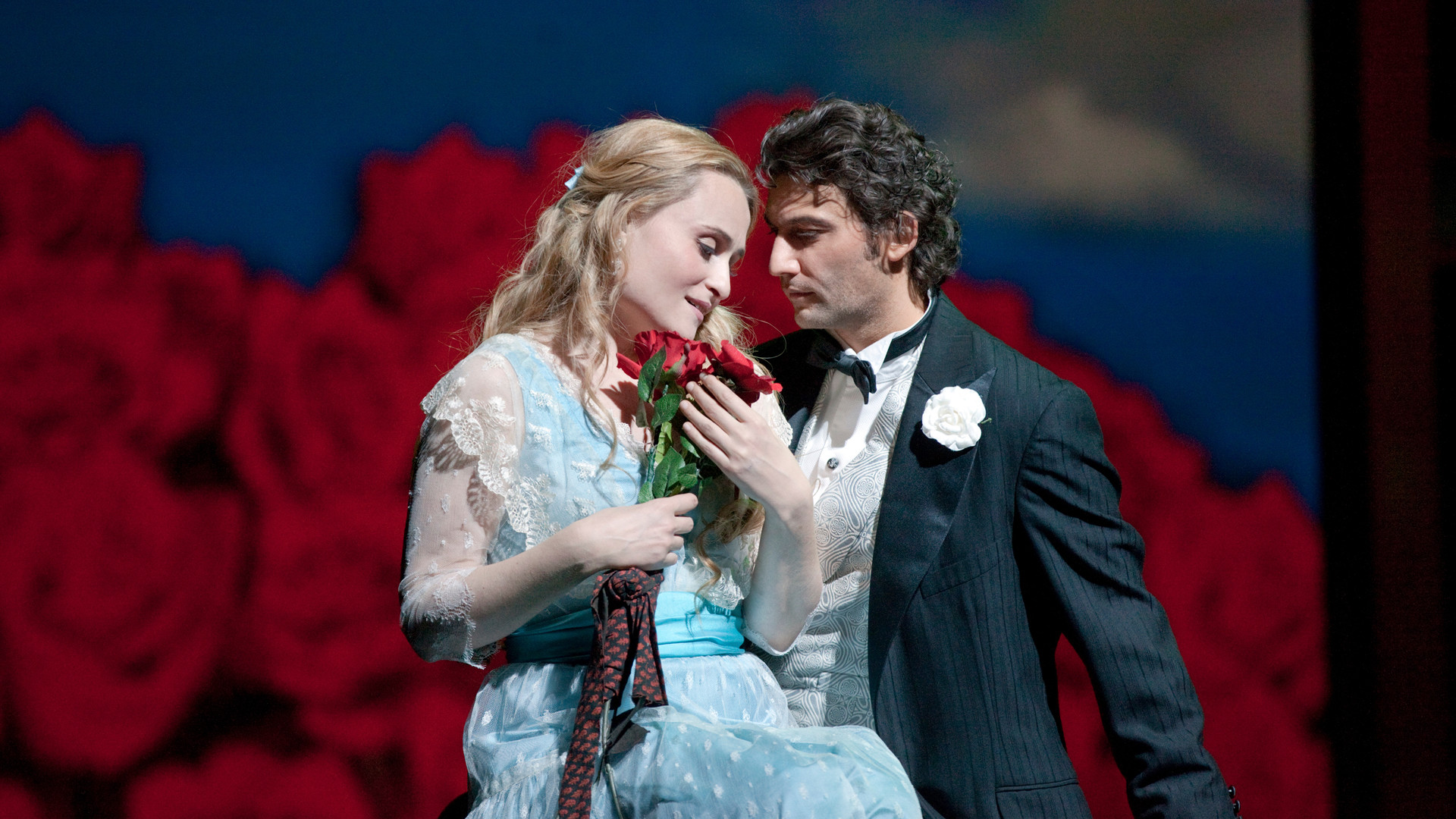 Faust
Фауст
Tenor Jonas Kaufmann is riveting as the title character of Gounod's popular opera, seen in this Live in HD presentation of Des McAnuff's thrilling 2011 production that places the mythical and timeless story in an early 20th-century setting. René Pape as Méphistophélès is menacing and elegant in equal measure, and Marina Poplavskaya delivers a searingly intense portrayal of the innocent Marguerite. Russell Braun as her brother, Valentin, shines in his Act II aria. On the podium, Yannick Nézet-Séguin brings out all the lyricism and drama of Gounod's score.
Actors
Crew
ACT I


Faust has spent a lifetime in the study of science. Disillusioned with life, he resolves to poison himself. He curses God and calls on the Devil. Méphistophélès obligingly appears and offers Faust riches, power, or glory. Faust, however, only wants to recapture the innocence of youth. Méphistophélès agrees to Faust's request, but there are conditions: on earth Faust will be master, but in the world below their roles will be reversed. When Faust hesitates, Méphistophélès conjures up a vision of Marguerite. Faust signs the contract and returns to his youth.
ACT II


Valentin and Wagner are going off to war with the other soldiers, and Valentin is concerned about leaving his sister Marguerite unprotected. Wagner starts a song to cheer everyone up, but is interrupted by Méphistophélès. Méphistophélès tells fortunes: Wagner, it seems, will be killed in his first battle. The flowers that Siébel picks will wither, and Valentin will meet his death at the hands of someone close to Méphistophélès. Dissatisfied with the wine on offer, Méphistophélès conjures up a better vintage to toast Marguerite. This angers Valentin and both draw their swords. Valentin strikes out and his blade shatters. Everyone is convinced they are in the presence of the Devil. Méphistophélès leads Faust to a place where couples are dancing. Faust sees Marguerite and offers her his arm. She refuses, but so charmingly that he is left more entranced than before.
ACT III


Siébel gathers flowers for Marguerite outside her house. As Méphistophélès predicted, they wither, but holy water seems to restore them. Méphistophélès and Faust have been watching, and Méphistophélès leaves a box of jewels for Marguerite. The atmosphere of innocence surrounding Marguerite's home moves Faust. Marguerite finds the jewels and puts them on. When she looks in the mirror, she sees a different woman and is further confused by the encouragement of her neighbour, Marthe. Faust and Méphistophélès return, and Méphistophélès flirts with Marthe, giving Faust the opportunity to seduce Marguerite. She begins to give in. Méphistophélès conjures up a garden and makes Marthe run off before disappearing himself. Marguerite realizes she loves Faust and they make love.
ACT IV


Seduced and abandoned, Marguerite is expecting Faust's child. She is still in love with him and prays for him and their unborn child.

The soldiers return with Valentin. Siébel tries to stop him seeing Marguerite but Valentin, suspecting the worst, pushes him aside.

Outside her house, Méphistophélès serenades Marguerite on Faust's behalf. Valentin and Faust fight and, with the intervention of Méphistophélès, Valentin is fatally wounded. Marguerite watches her brother die and hears him curse her with his last breath.

Distraught, Marguerite goes to church to pray for forgiveness. When she hears the voice of Méphistophélès telling her that she is damned, she collapses in terror.
ACT V


Walpurgis Night. Faust and Méphistophélès are surrounded by a group of demons. Faust is shown a vision of Marguerite: she has been imprisoned for infanticide and gone insane.

With Méphistophélès's help, Faust goes to the prison in an attempt to save Marguerite. She seems to recognize her lover and recalls the night when he first seduced her. Faust is overwhelmed with pity. Marguerite panics at the sight of the Devil and, with a frantic appeal to heaven, she dies. Méphistophélès damns her but angelic voices proclaim she is saved.

—Courtesy of English National Opera
Runtime
3 hours 40 minutes